Starting a coaching business is quickly becoming one of the most profitable opportunities out there. It seems like everyone knows someone who is a coach, wants to be a coach, or is hiring a coach.
According to estimates, the total value of the U.S. personal coaching business was around $1.08 billion in 2017. This does not even take into account other forms of coaching like executive coaching which has an estimated annual spending of $1 billion. 
Source
If you want to make money on your own terms, the coaching business model is worth a look. It makes sense for companies and individuals alike but how do you stand out from the crowd?
If you have already started a coaching business and have begun to generate a certain amount of passive income, your next step should be to try and grow your business like a startup.
So, let us dive into it. Here is a step by step guide to scaling your coaching business.
Step 1: Decide what coaching model is right for you
Your first step needs to be deciding what coaching model is right for you in the long-term. This is going to be your primary source of income so you need to narrow down on what is going to be your most frequently covered model. This is what you will base a lot of your future business decisions on so it is important you get it right.
Here are a few of your options-
One on one

– This is the most time-consuming model available since you are literally exchanging money for time. You would be coaching only one customer at a time which is a real drain on resources. This type of coaching may still consist of telephonic or in-person sessions, while online coaching has changed significantly over the past decade. It requires a simple digital coaching platform or a platform that provides remote one on one teaching/coaching sessions, like this one. 

Group coaching- 

Group coaching is slightly less time-consuming than coaching one on one since in this case, you will be coaching multiple people at the same time. This can either be in-person or online.

Corporate coaching

– Corporate coaching means you will be dealing with employees of companies so in most cases it will be the company that pays you a lump sum amount for coaching all of the employees under their corporate umbrella.

In-person events

– This model is most suitable for corporate coaching or coaching that requires in-person demonstrations. You would ordinarily only choose this coaching model if you already have a well-established coaching business or are partnering with other coaches in a similar niche.

Hybrid Model

– The hybrid model will normally include two different coaching models together. This would ordinarily be online coaching alongside creating a productized service such as a course.

Automated Coaching Model

– Coaching can never be completely automated but there are certain parts of your coaching business that can and should be. For example, you could prepare a few frequently used coaching conversations that you can use repeatedly whenever you are dealing with a client for the first time. You can access your client(s) using a questionnaire and provide personalized content at the end depending on their answers. This feedback report with personalized recommendations will help you show your clients how valuable your service is while also saving time and money.
A good example of the use of questionnaires to bring in new clients (by providing personalized content) is what the company V Shred does to bring in new customers.
The moment you visit their website, you are greeted with a few questions that you can answer to find out what diet and training suits you best. The entire questionnaire and personalized answer at the end is automated but it is exactly what a potential customer wants to see.
Source
Once you are done narrowing down on a coaching business model, you can move on to the next step which is finding your Unique Selling Position.
Step 2: Figure out what your USP is and focus on it
If you are offering one on one coaching, you can start the coaching call asking the customer 'What do you want help with?' but if you are conducting a group session or have created an online coaching course, you need to have a bag of tips and tricks you can depend on to 'wow' your new students.
You need to remember that not every client is going to even know what their problem is. Your job is to also help them figure this out.
Your USP (unique selling proposition) is what allows you to stand out when compared to your competitors. You cannot be giving them the same coaching that is available everywhere else.
So, how do you figure out what makes you unique as a coach?
Well, it is not as hard as it sounds. In fact here is a quick exercise by Cari Maines that can help you figure it out-
Write down three words that describe your personality, another three that describe your coaching style, and finally, three more that describe your clients (what makes them unique?).
The next step is to figure out why people should buy from you. This means figuring out what experience or message you have that makes you better than the rest.
You will use these answers to create your tagline and headline which will become part of your USP.
If you want to learn how to scale a coaching business, you are going to need to learn what makes you special. You cannot market your business if you do not know what it is about.
A great example of a company that has nailed its Unique Selling Position is 99robots. They are an Amazon ads agency that has niched down and focused on one problem that they can solve better than anyone else. 
Instead of targeting the whole eCommerce market (which is highly competitive), 99robots focuses solely on established sellers who want to increase their sales through Amazon's ad platform.
Even the blog on their website is niched down and speaks directly to their target audience by providing tons of actionable resources through their guides.
Step 3: Create a schedule and manage your hours
Now that you have a plan, you need to create a coaching calendar. Coaching does not just involve the few hours that you actually coach your clients, you need to have time dedicated to a couple of other tasks as well such as-
Managing your social media
Managing your affiliate program
Updating your online courses
Answering any questions your clients may have
Reading and replying to emails
Writing and sending meeting request emails
Sales calls
So, how should you do this?
Start by identifying your goals for the business. What do you want to focus on and what do you think needs to be focused on?
Use the answer to these questions to create time slots for all of your tasks. Things that you believe need more attention will have longer and more regular time slots while things that you believe need less attention can be done only once a week, for example.
Now that you have a fairly accurate idea of what an average week would look like, you need to schedule it out. Don't make the mistake of doing this manually because it will leave you confused. You can use a calendar app like Google Calendar or Time Tree instead.
 Source
Step 4: Start to automate certain aspects of your business
As you continue to grow your business, you need to start dealing with your time like it is as an asset. Ask yourself, what tasks can be automated?
Here are a couple of ideas:


Client Onboarding
When clients initially sign on to your coaching class, they are bound to have a list of questions. Often these questions will be very similar in nature so instead of having to answer them a million times, start an automated email sequence that includes any information a client may need when joining your coachings sessions.
To do this, you can use a service like ConvertKit that automates email marketing and allows you to schedule emails and send them to your email lists.
If you do decide to use an email marketing service, I would advise you to focus on your Click-Through-Rate (CTR) since this is one of the most important metrics to consider when you are measuring the success of your email marketing efforts. (according to techpatio)
Adding tools to your business
Project management and time-saving tools can be an absolute lifesaver for entrepreneurs of any kind including people who own coaching businesses. Here are some of the best tools you can use (some of them are free)-
Trello– Trello is a simple project management software that allows you to keep track of your work. I personally use the free version which is great for almost everyone.
Airtable– This is a collaboration and work management software that is especially useful if you have a remote team.
Recruitee– Lastly, Recruitee is a software that automates your hiring process with awesome templates and automated actions that work seamlessly with their scheduler. Another great option for hiring would be TalentLyft. These tools are especially handy if you ever want to hire a web developer or virtual assistant, for example.
Consider using an accounting service
Being your own boss means your accounting is your own problem and is also not as straightforward as it would be if you were employed by a company.
You could also consider hiring a virtual CPA from a company like CPA on fire if you want more help with your accounting (This company is only available for people who file taxes in the United States).
Online booking software
This will also help you save time because you will be able to tell people who email you asking for more information exactly which page to go to so that they can finish booking their appointment. I suggest either
Calendly
or
Acuity Scheduling
. 
Step 5: Create pricing packages and landing pages
Now that you have an idea of what coaching business models you want to provide and you have automated a lot of your work, you need to create a landing page for clients to reach when they want to book an appointment with you.
You can use this landing page to showcase your pricing packages that include different services you provide and at what rates.
A good landing page software to look into would be Leadpages. You can also use Calendly (the booking software I mentioned) along with it since both of these services work well together.
When creating a landing page, remember that your potential client has two questions-
Do you understand what I am dealing with?
Do you have a solution?
Your landing page should cut out the fluff and answer those questions.
A good way to answer both of these questions well is by creating a quiz landing page. These landing pages will help your potential client understand your coaching method and will allow them to decide whether it is the right fit for them.
This will also benefit you (the coach) since a completed quiz by any of your website visitors will give your priceless data about your ideal customer or website visitor. You can even generate leads using this method by asking for the visitor's email address at the end of the quiz.
To be able to ensure seamless user experience on your website, make sure your choice of website hosting is outstanding.
The best part about these leads is that they are giving you their email address because they are genuinely interested in your content which means they will be of the best quality.
You can also create custom branding for your coaching business to make you more recognizable. Your logo, tagline, and brand colors can be incorporated into your new landing page.
It is up to you if you want to share you prices on your website or not- but if you do, make sure your pricing packages include the benefits of your coaching programs and not simply the 'features'.
Ampfluence does a great job of this. They are an instagram growth service that has one of the most comprehensive pricing tables that include all of the features and benefits that come with each of their packages. It is well designed, easy to read, and thorough which are the key features for a good pricing table.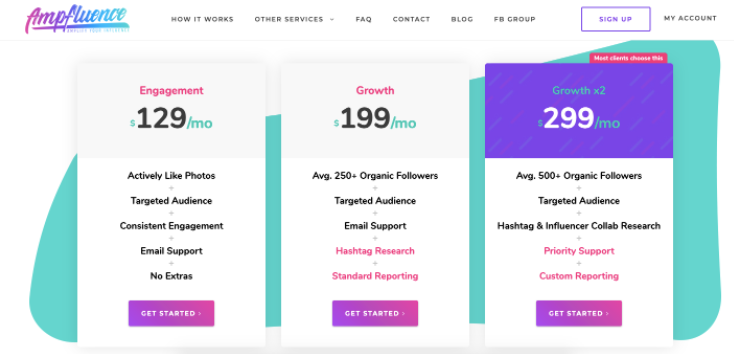 Step 6: Create a solid sales funnel for your coaching business
Now you need to decide what your sales funnel is going to look like. There are multiple ways to bring in new leads for your business. These are some of the most common-
1. Webinars: Hosting a webinar answering a few common questions that your ideal client would likely have is a good way to convince someone who is on the fence to sign up for your coaching services. You could use a service like Click Meeting to host these webinars. So, for example, your sales funnel could look like this: Facebook Ad> Webinar Sign Up> Landing Page to sign up for your service. Here is a list of other webinar platforms to help you choose which one fits you the best.
2. Facebook ads: If you are brand new to the coaching business, you are going to have no audience so investing in Facebook Ads is an affordable way to grow your audience and get people interested.
3. Email Marketing: If you do not have the time to repeatedly conduct webinars, you could alternatively depend on creating an email list who you can then sell your products and services to. In this case, your sales funnel would look like: Facebook Ad> Blog Content> Opt-In Form> Email List Sequence.
Ricard from Modest Money does a great job of this. He offers his Dividend Growth Investing Guide for free which helps him build his email list. He then uses the list to sell products like his coaching services, products, and more.


4. Affiliates: Affiliate marketing is a great way to grow your brand. You can create webinars with other coaches in your niche and talk about your affiliate program at the end. Bloggers and influencers are always on the lookout for a good affiliate program to promote.
5. Free services or products: This option is a little more pricey than others but it really does convince people that you are worth the money. At the end of a webinar, you could offer your audience a free book or eBook. If you are sending over a physical product, you could also make a QR code and add it behind the book cover or on the box of the product you are shipping. The QR code can be used to link to your landing page or to link to an 'insider discount'.
6. A hybrid of two or more of the above
At the end of the day, your sales funnel will depend on your financial ability, business model, and preferences but having one is imperative. Do not be afraid to try new sales funnels and take the time to figure out which one works best.
Step 7: What is your long term plan? Narrow down on a model to scale your business
In the long term, you do not want to be selling your time for money and wasting hours coaching clients. Your goal should be to make this a coaching business. To do this, you need to focus on one coaching business model.


The coaching firm model
This is your classic coaching firm model where you hire multiple coaches to take on different clients and you take a cut out of the profits as the owner. 
The benefit of this model is that you get to automate a lot of your business and actually have the time to spend your hard-earned money. On the other hand, your clients may complain that they are not getting to be coached by you in specific so if you do choose this model, it is important to focus on getting the best coaches out there to be a part of your team.
A good example of this type of coaching model is Dan Sullivan's Strategic Coach company that has multiple coaches that make up their business coaching business. 



The productized coaching model
The productized coaching model is all about putting your expertise into a product that can be bought over and over again. This is normally in the form of training programs or courses that would include chapters that cover various topics.
The benefits of this model are similar to the benefits of the coaching firm model with the one downside being that clients may not have the ability to ask more personal questions that could possibly not be covered in your course.
You could deal with this by allowing them to be part of a Facebook group or membership community.
This is a very common model for coaches to take since your courses can be bought multiple times and become a recurring source of revenue. If you do want to create a course there are two options-
Create a course and publish it on a 

learning platform

–

 A learning platform like Skillshare will promote your courses to its massive audience and your course will be hosted on their website. The downside to this is that you will not be hosting it on your own website and you will also have to pay fees to SkillShare. This is suitable for people who do not have an audience of their own.

Create and host your own course-

 The other option is to create a course and host it on your own website. This will allow you to take 100% of the profit and your course will be sold under your brand name rather than someone else's. You can use a service like Thinkific for this.
The customized coaching model
This is the last coaching model and is the most personalized. You would be delivering a different coaching service to each client depending on their needs and what they are looking for. This will give the client the best outcome but it is not the most scalable model since you are selling your time for money.
To counter that drawback, you could consider using an automatic PDF generator that will give your clients personalized content at the end of a questionnaire. These personalized feedback reports are one of the few amazing ways to automate the customized coaching model. 
This means that you could potentially make this model the most scalable of all by automating your first conversation with potential clients.
The great part about these assessment reports is that they have both a marketing and coaching functionality since they can potentially bring in new leads while also coaching clients.
Selecting the 'right model' comes down to what you want out of your business in the long-term. There is no right answer here but you do need to have a coaching model that will be used as the foundation of your business. 
Step 8: Create a '90 Day Goals' sheet to refer to
This 90-day goals sheet is going to give you a path to follow to help you reach your end goal. Having small goals will help you stay focused and will prevent you from getting frustrated and overwhelmed in the short-term.
It is pretty easy to make and you can simply create a new word document to get yourself started. Sit back and break down your final goal into bite-sized pieces. 
A good way to do this is by creating goals for every week so that you have something small to complete that is not overwhelming but also deserves a pat on the back.
Step 9: Work on creating a brand for yourself
You do not want to reach a point in your business where you cannot grow any further because you are running out of time.
Creating a brand for yourself is imperative to your long-term success. You can do this in a couple of ways but here are the most common ones-
Online courses

– We have already covered the benefits of creating a productized service. If you do not want to have a completely productized business model, you can also opt for a hybrid model where you offer products and one on one coaching at a higher rate.

Certification Programs

– Once you have created a coaching business and built a brand for yourself, you could even consider offering certificates at the end of certain programs. 

Selling Products

– This could mean selling a book that covers some of your best tips and tricks. You can use an affordable service like BigCommerce to create your online store if this is something that interests you.

Create a membership community

– This is more of a recurring subscription-based service that you would provide clients. It would normally include special access to a large list of resources that are constantly updated.
If you keep asking yourself 'How do I scale my business?', you need to remember that a coaching business should be treated like a startup at all times.
Remember this at the end of the day- 'Coaching isn't therapy. It's product development, with you as the product.'- Fast Company.