The digital marketing world is becoming more and more competitive— around 4 million blog posts are published every single day. One of the best ways to cut through the noise and stand out from the rest is to create content that's different, such as interactive content.
What is interactive content?
The internet is currently filled with a lot of static content like articles and infographics. The problem with static content is that the interaction between you as the maker and the audience is only one-way. The audience can only read and share your content, nothing else.
That's not the case with interactive content. With interactive content such as quizzes, the audience can do more than just read. They can do the quiz and then get personalized results based on those answers. 
Since it offers two-way communication, interactive content generates twice as many conversions as static content. More importantly, creating content like quizzes will give you a better understanding of your audience. As a result, you'll be able to create a more targeted marketing campaign in the future.
In this article, we'll take a look at 8 quizzes to spark ideas for your next interactive content.
1. Game of Thrones personality quiz – BuzzFeed
The personality quiz asks the audience a set of questions about themselves and then reveals what kind of person they really are. This type of quiz is so effective in attracting users because people love to discover more about their own personalities and characteristics. 
One of the best examples of personality quizzes is "Which Game of Thrones character are you?" by BuzzFeed. It was created back in 2013, at the TV serie's height of popularity. It was quite a brilliant idea because it combined the popularity of Game of Thrones' and the audience's sense of curiosity about their own character.
Everyone wants to have a nice career—where they get paid for doing something that they love. A career is one of the most important aspects of people's lives and creating a quiz about careers can definitely attract attention.
Take a look at this buzz quiz developed by David Hodgson and published by icould. You'll be able to find your strengths, jobs that may fit your strengths, and famous people that have similar characteristics to you. There are 16 different results that are available and each result is represented by an animal.
3. Digital marketing knowledge quiz – BrightEdge
If you're a B2B business owner and you want to attract more potential customers, you can try making a quiz that's related to your industry. If your content is good, people will keep sharing it, which means that more people within your industry will be aware of your existence.
For instance, if you provide a digital marketing training service, you can make a quiz about digital marketing in general like this one from BrightEdge. The title of the quiz is "Do you think you know Digital Marketing?" and it contains 15 questions to test your overall knowledge of digital marketing.
4. Brain health assessment quiz – Brain MD
As mentioned before, people are curious and interested to learn more about themselves. It's no wonder that most viral quizzes on the internet are the ones that deal with the audience's self-assessment, like their personalities, abilities, characteristics, or careers that suit them.  
This next example by Brain MD entitled "What's your brain type?" is no different. This quiz gives you 15 questions regarding how your brain works. After that, the result will show you what brain type do you have, the characteristics that come with it, and then they'll give you a product recommendation to improve your brain health. Nice strategy.
5. Skin score quiz – Annmarie Gianni
If you're tired of making the same content for your newsletter, maybe you should take notes from Annmarie, a skincare and makeup company. Instead of making a new product discount, they tried making something new with their "Skin Score Quiz". The result was amazing, as they gained 400% more leads and generated $200,000 in just two months.
The pattern in this quiz is similar to the previous one, where Annmarie will provide you with 10 questions that you need to answer. After you finish, you'll get the score and the type of your skin, as well as product recommendations to improve your skin condition.
6. Makeup spirit animal quiz – Birchbox
Another quiz that leads to product recommendations is also done by Birchbox, a monthly subscription service that sends makeup samples to its subscribers. Only by paying $10 a month, you'll get a box that consists of 4 to 5 samples from various makeup brands delivered to your home.
Birchbox frequently make quizzes to engage more with its visitors. One of its latest quizzes is called "What's your makeup brand spirit animal?" where they ask you 5 questions about your personality and favorite things, and then recommend you one specific cosmetic brand that suits you.
7. You've been framed quiz – Zenni Optical
In a world full of articles, fun and engaging content like quizzes can help brands attract more traffic and boost online sales. That's the case with Zenni Optical, one of the largest online optical sellers. In 2015, they created a quiz called "You've been framed" that resulted in a whopping $1 million in revenue, over 29,000 lead conversions, and 9,655 ROI in just half a year. 
The quiz contains 9 fun questions about the customers' lifestyle and preference. The light-hearted nature of this quiz makes it extremely shareable, which explains why it has generated so much revenue.  

8. Instagram quiz – Hyundai
The most unique quiz example comes from the Korean car manufacturer, Hyundai. Instead of hosting the quiz on its website like every other quiz on this list, Hyundai uses Instagram to do that.
They start the quiz by creating an account with the question: "What time of the day makes you happiest?" There are several answers that people can choose, and each answer leads you to a different account. It keeps going until in the end, Hyundai will reveal which of its car products resemble your personality the most.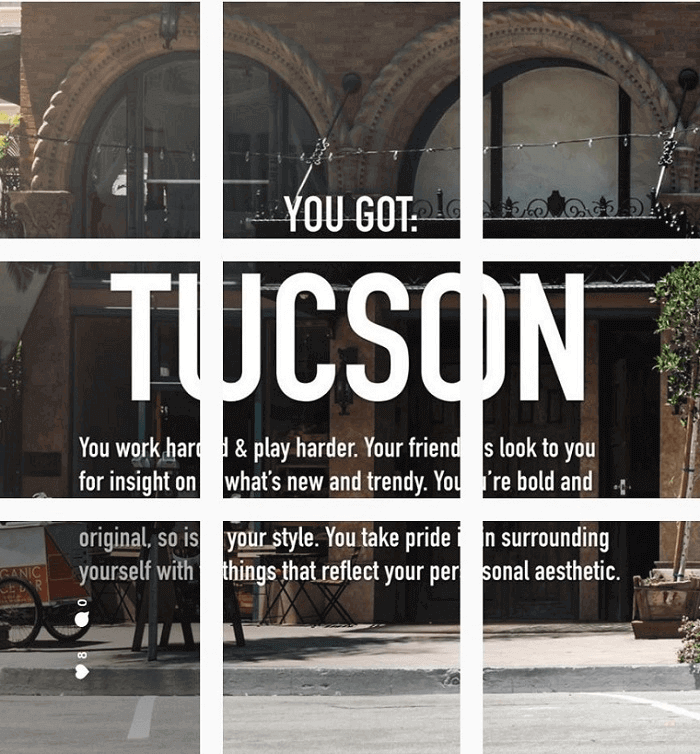 9. Fasting quiz – DoFasting
There are a lot of blog posts on dieting and fasting out there. Most of them offer general tips that apply to everybody else. But DoFasting took an alternative approach that helps it stand out. Instead of asking people to follow the same steps as everybody else, it created a quiz that asks people questions related to fasting and also enquires about other details like their height and age.
In the end, it generates a free report. But instead of giving it away immediately, it asks people to sign up with their email addresses. This helps DoFasting generate leads. It also segments leads based on answers, so it can send relevant emails and offers to increase conversions and lower unsubscriptions. It's a quiz that mostly consists of multi-choice questions and should take a few minutes to complete. So, most people take part and sign up.
There are two things that can be concluded from this article. The first one is the fact that humans are narcissists by nature. We love being asked about our lifestyle and preference. That's why personality quizzes work best in digital marketing. 
According to Christine Whelan, an expert in Human Ecology, people love personality quizzes because they "love it when you ask questions about themselves" and that makes them feel important because the quiz is interested in them. 
That narcissistic trait also explains why people love to share their quiz results on social media and compare it with their friends. "My personality is just like Robb Stark" or "My spirit animal is a turtle" are things that you may frequently see being posted on Twitter, Facebook or Instagram.
For that reason alone, the second thing we can conclude is that quizzes are one of the most effective tools to engage with the audience, attract more traffic, and eventually boost conversion rates. So, what are you waiting for? Create your own quiz now.