Social media marketing is on every brand's table these days, isn't it?
But when it comes to analysis, not all things can be interpreted through behavior metrics. It is quite simple for you to know what your audience liked and what they didn't like but the afterthought can be better obtained through direct surveys on social media.
87 percent of survey-takers want to have a say in a company's future products and services which clearly explains how beneficial and informative survey responses can be. Surveys come with a number of benefits although its primary chain runs something like this.
Know

 what your audience thinks about your product or service.

Provide 

them with relevant solutions.
Knowing your audience
This step is the first and foremost consideration when it comes to planning a social media strategy. Efforts made to know the audience is never a one-time thing and for a social media strategy to be successful, it demands consistency. Surveys can play a huge role and make your work a little easier if you make it reach people fluidly. They can provide you with real-time insights directly from the users which can be of prodigious importance for businesses.
Providing your audience
It's important to be aware of your audience's thoughts but this stands to be incomplete if that data is not reverted back with a relevant thought or a solution. The solution can mean different things to different businesses i.e. this might foster engagement for some and increase sales for the others. Surveys offer an opportunity for businesses to gain data that they might not be able to glean from other social media methods. While the social media method tries to capture engagement patterns, surveys, on the other hand, give you raw information directly from the feeding source.
Now that you have an understanding of surveys, let's get started with using social media surveys.
How to get started with social media surveys
Your survey goal should communicate a broad question that should further be broken down into small questions. By following a social media questionnaire, you can easily get to know your audience's thoughts step by step and work towards it.
Social media is a place where people talk and that is what you can make the most of. The core of business based social media surveys begins from being open to suggestions, complaints, and advice. When you keep all of these into consideration, your social media survey goal will not be too far to achieve.
2. Choose a tool/platform
To make this strategy a step ahead, you can juggle around surveying tools that are easy to use for the audience. A precise choice is required while choosing a tool so that you can better target your audience, ask questions, and collect answers.
If you're not yet ready for a traditional survey method, you can always give a shot to social media questionnaire/poll surveys. Initially, you can choose a platform with enough of your target audience and then proceed further to conduct a survey. 
You can utilize social media in different ways such as:
Use an Instagram story poll to know about your audience's opinions.
Pose a question to your Facebook audience.
Ask multiple-choice questions with the help of a Twitter poll.
Use Facebook groups to get your poll to reach more people.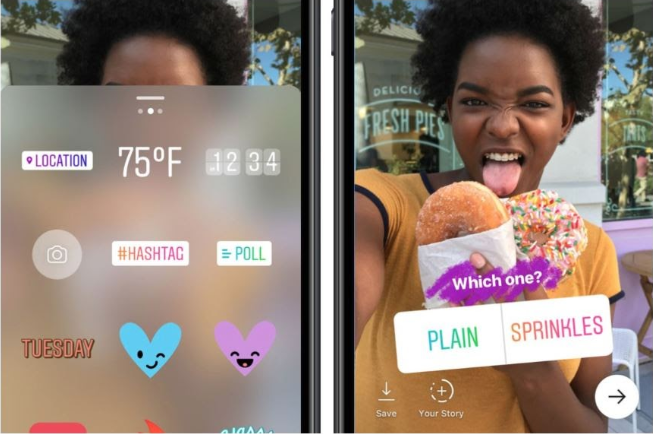 Posting these inbuilt surveys on social media platforms such as Instagram, Facebook & Twitter is quite easy and is always a few steps away. Though they come with different limitations, you might want to keep a tight eye on them for more valuable insights.
As 80 percent of customers tend to abandon a survey halfway through, you might not want to bore your audience with lengthy questions. When you conduct a survey, you ask your audience for plenty of their time and you wouldn't want them to regret giving that to you. 
Start with questions that are easy to answer and make sure not to overwhelm your target audience. Before preparing a social media questionnaire, hop into your buyer's shoes and ask questions interestingly enough to not turn them off before finishing it.
There might be a barrel of questions that you want to ask your audience but you can't just throw all your questions at them. An approach with patience can help you write questions that are open to opinions and closed enough for you to quickly sort and measure.
For example, instead of asking 'How satisfied are you with our service?', you can ask 'On a scale from 1-10 which best describes your satisfaction level from our service? (10 being the highest point of satisfaction)' 

These techniques might make the question to be easily answered and would also consume less time of the user. The benefit here is that the user wouldn't mind spending a few minutes in answering questions with a limited set of options to choose from.
5. Send survey invites at the right time to the right audience
The work is half done when your social media survey reaches the user at the best possible time. The best way to deliver surveys begins with keeping a track of when your target audience is the most active on social media. Also, directly putting out survey links rarely works. Instead, feed the users with your content first and then prefer to put survey links at the end of the posts.
Moreover, don't invest your time and efforts in aiming for the people who never interacted with your website or bought your product. It's important to respect a user's online privacy and if you don't do that, you might end up presenting your brand as annoying and unwanted to them. To gain a rapid survey-filling audience, you can also try new things such as giving a discount/offer in exchange for taking the survey.
Stationary sellers at Paper Source smoothly yet strongly filled up on his customer feedback list by giving a 10% discount in exchange for taking the survey. This approach benefits the user and might want them to follow the CTA and provide valuable feedback right there and then.
Tips for more sophisticated Social Media Survey:
Never forget to improvise your strategy
Don't ask a lot of open-ended questions
Don't forget to reflect positively on the answers
Genuinely work on the feedback and create social proof
Benefits of including surveys in your social media marketing strategy
When somebody tries to know you and provide you with relevant information/solutions, the other person naturally starts to trust them. The same goes for businesses on social media, and surveys are the best possible way to act on a user's concerns and let them know that you care.
Feeding the users with content and passively putting out a survey to know their point of view triggers a positive background in the back of their minds. Take advantage of social media marketing surveys and increase your social media outputs in no time.
The ideal audience might carry certain fears and uncertainty when they are interacting with your brand for the first time. It's your job to make them sure of what they are going to receive from you. To break the barrier, efforts from both sides are required and that is where a survey comes into the picture.
Social media surveys can serve multiple purposes for a business, one of which is breaking the barrier between a brand and a potential customer. If your business is well aware of the user's fears and uncertainties, you will definitely be able to provide better content to ensure the users of your brand. This approach will become whole when surveys are involved in the social media marketing loop.
3. To foster conversation and engagement
Nowadays, a social media manager's job is mostly about gathering engagement and building a community, hands down!
For your business to do the same, it requires you to understand your customer's pain points and reflect on them with relevant information. Why else would a user engage with a brand if it doesn't solve their concerns!
Social media is a surprise world and you can probably never assume how your audience is going to respond to your content without it getting published. To keep up better with the audience, an open-end conversation is a must for businesses to have and social media marketing surveys are the best way to do that.
Instagram polls, if made with eye-catchy content, are quickly noticed which communicates the significance of a crisp poll question. This can be the quickest and most effective kind of survey taken on social media which enhances the user's ability to react and respond. This eventually leads to fostering conversations and engagement which can take you from being just a brand to a customer-focused brand.
4. Learn their communication style
Knowing what your audience really wants and will respond to is never a cakewalk. As a business, to really get to know your audience, you also have to be on the other side of the channel i.e. the audience's side.
Surveys can be a direct approach towards fulfilling your strategy and it comes with a number of other benefits too. Rolling out a survey can give you valuable insights and also make you familiar with the trigger words, phrases, and questions that you can use to increase your social media interaction. 
Remember, when you begin to grasp your audience's communication style, you become somebody they can relate to. 
With a social media marketing strategy in place, you might have to assume a lot of things while developing your content. Every strategy has its leaps and bounds and you might never know why the user interacted on this particular post and not on that one.
Even after following all the analytics, it might be difficult for you to know the exact answer to why an ad failed or succeeded.
That's what surveys are for!
Social media surveys can give you insights that are beyond numbers and metrics.
They can inform you with answers to:
Why are customers making purchasing decisions from your content?
On what stages of the buying journey the customer thinks of you as a provider?
Why did a particular ad or piece of content work (or didn't work)?
With the right set of questions, tools, and strategy, your social media survey can become an intrinsic part of your marketing reel. Moreover, you can also seek guidance from social media management tools for audience analytics to come up with better content for polls. For companies that are tight on their marketing budgets can try their hands on several Hootsuite alternatives available in the market.
Happy social media surveying!