Better Minds at Work helps organizations to improve the employee well-being and mental resilience. They do this through professional advice, training, inspiration sessions and coaching by their group of top-notch experts, like neuropsychologist dr. Elke Geraerts.
Who is Sabine Wanmaker and what's her role?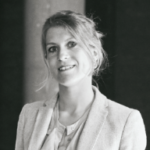 Sabine Wanmaker is Consultant at Better Minds at Work. She manages projects like the Human Capital Scan, a psychosocial stress risk analysis to measure the risk of burnout among employees in an organization.
"Because of my background in psychology, I can both design the content of the questionnaire and translate the results into practical organizational advice. A combination I love."
Employee wellbeing: finding the balance
For their current project, Better Minds at Work wanted to measure the balance between energy sources and stressors at work: "If you want to have employees who work successfully and are mentally and physically healthy,  it helps employers to see what the level of engagement and burnout is".
"But those were quite rough measures, so we wanted to dive deeper into those concepts. That's why we split the principles into different components: energy sources and stressors. Also leadership and personal support sources are taken into account, because they interact with the rest. The combination of these factors gives organizations a thorough insight into the levers they can pull to increase employee engagement and lower stress levels."
Measuring energy and stress levels
"Stress is often seen as really negative, especially when you see people with a high workload. But it's not that simple," Better Minds at Work points out. "Luckily, because otherwise a lot of people would be burned out. The level of energy and stress depends on the interaction of several factors like leadership, the clarity of your role, and whether you are facilitated by the organization to do your job well."

In an optimal working environment, employees are highly engaged, and as often shown, organizations profit from that.
Better Minds at Work helps their clients in different ways: by organizing workshops, keynotes, coaching sessions and consulting. Employee wellbeing is the key to optimizing productivity and engagement.
The human capital scan with Pointerpro

Measuring engagement and burnout
Pointerpro comes in at our Human Capital Scan, which measures the level of engagement and burnout. 
We use this scan as a starting point for a policy or trajectory in a client's organization, and to measure the effect at the end of our intervention. Employees receive an individual report with a thorough analysis of their energy and stress factors, and tips on how to improve it. Organizations receive a report with an analysis per team, location, country, or whatever split they prefer. 
The report shows scores in the shape of batteries. When you score well on a certain variable, your battery will be fully charged (green). Consequently, when the score is low, your battery level will indicate an alert (orange or red). 
In this report extract, you can see the results for the category Personal Energy Sources. You can see that the respondent has a healthy score for resilience, and needs to pay attention to perfectionism, flexibility and active coping. The team score indicates a healthy average for perfectionism and resilience, and an alert for flexibility and active coping.
The assessment gives both the employee, the team and the organization helpful insights to improve workplace happiness.
Thorough analysis, simple feedback
"We started with a simpler tool, but we needed a more extensive solution once we were growing. We were looking for the possibility to create an individual report, as that matches our ideology: a thorough analysis but easily explained for the employee and the organization"
They needed better reports, better service, and mostly, a better process: "Everything can be automated in the Pointerpro app, which was a huge benefit. It's an easy-to-handle tool, and we have great support. When I call, they know I need a quick fix to a problem. The collaboration is going very well."
When we ask if Better Minds at Work has recommendations to improve our product and service even further, she suggests starting to sketch the process at the beginning of a complex project, together. That gives clarity for both Pointerpro and the client about which steps need to be taken until the end result.
"It's far more personal, building the assessment with just one focal point or contact person. You work together in a team, you get a feeling of a partnership to build something together."
"The tool looks really nice and has a bit of humor, I like that! Right now, our questionnaire is very serious. It would be nice to think about how we can make it more fun. The 'sharing is caring' principle."
"It's a great advantage to have formulas and the possibility for a really thorough analysis." Better Minds at Work explains: "There are hundreds of formulas, but the customer only sees the easy-to-read report. There is a complex back-end, but it's easy to use. If you're looking for something like that, it's really nice to work with Pointerpro."
The way forward looks exciting for Better Minds at Work: "We would like to include a benchmark based on the customer's specific industry," Better Minds at Work explains. "What we also want is to collaborate with insurance companies. We have a good tool to see things from a prevention side. Our current tool provides good measurements to start other interventions from there."
Also Better Minds at Work's sister company, EnergyLab would like to use the tool as a starting point for projects.