Creative questionnaires work great to engage and build your audiences these days. By building authentic, playful and personal interactions with your respondents (in the shape of a quiz, a calculator, an interactive form, …) you will get more valuable data and insights in return.
So how come, when we take the time to build these lead-generating questionnaires, only 30% of collected leads get followed up?
A big hurdle in survey software is that it often takes a bit of time to get the collected data analyzed, sorted and then imported into the right marketing tools you're using.
Lucky for us, there are easy integrations that will do that work for us!
In this article, you'll find all the steps needed to set up such an integration.
Basics of the integration
The connection between ActiveDEMAND and Pointerpro is set up through Zapier, great for one-way data pushes!
Zapier is a trigger-based app that, as soon as a new trigger is logged, it will push all the necessary data to the connected database. In this case: As soon as a survey response is saved, it is automatically added to your ActiveDEMAND contacts list.
How to connect ActiveDEMAND to Pointerpro
Setting up the connection between both apps requires you to have an account on both ActiveDEMAND, Pointerpro and Zapier as well. As soon as those are up and running, you are good to go!
1. Create a survey & activate the Zapier integration
First, if you haven't done this yet, you'll have to create your survey (log in to Pointerpro here), as the URL of the survey will be the identifier to set up your "Zap".
Based on the number of questions you ask your respondent, you'll be able to enrich your contact with all kinds of additional data (location, employer, company, …).
Within the integrations section of your survey, you'll find the Zap-template for ActiveDEMAND already waiting for you!
Clicking the template will lead you directly to this editor page in Zapier where you can set up the specifics for your connection between Pointerpro and ActiveDEMAND.
First up is selecting your trigger… Not a too difficult a choice 🙂 It's a survey response.

Connect the right survey: The titles of your surveys will appear in a handy drop-down menu. (And make sure that you have at least one recent response entered so that Zapier can test the connection!).

And step one of your Zap is completed!
The second part of the integration requires some information coming from ActiveDEMAND. The action here is again easy to choose: "Create a new contact".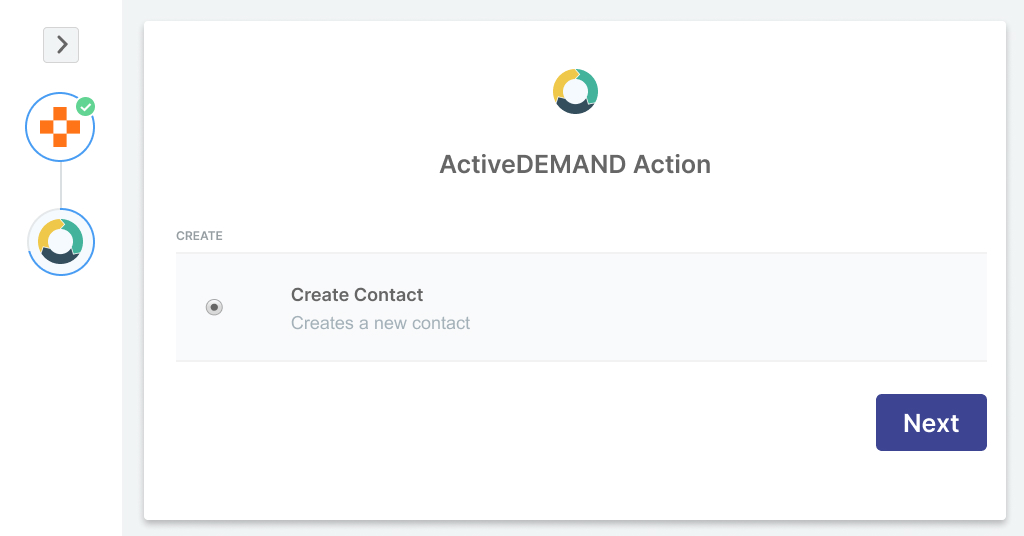 Connect your ActiveDEMAND account and start setting up the template of what data you wish to import from Pointerpro.
If you've been working with ActiveDEMAND before, you'll know how many extra pieces of information you can attach to a single contact.

For example, if I'd like to add a contact's first name, their work title and perhaps a tag that indicates their preferences towards frequency of a newsletter, my template would return a test that looks like this:

All from a single survey response!
3. Activate your Zap & check the result
As soon as you've set up the way you'd like your contacts to be imported into your ActiveDEMAND list, you are ready with your Zap. The only thing left to do is activating it. 🙂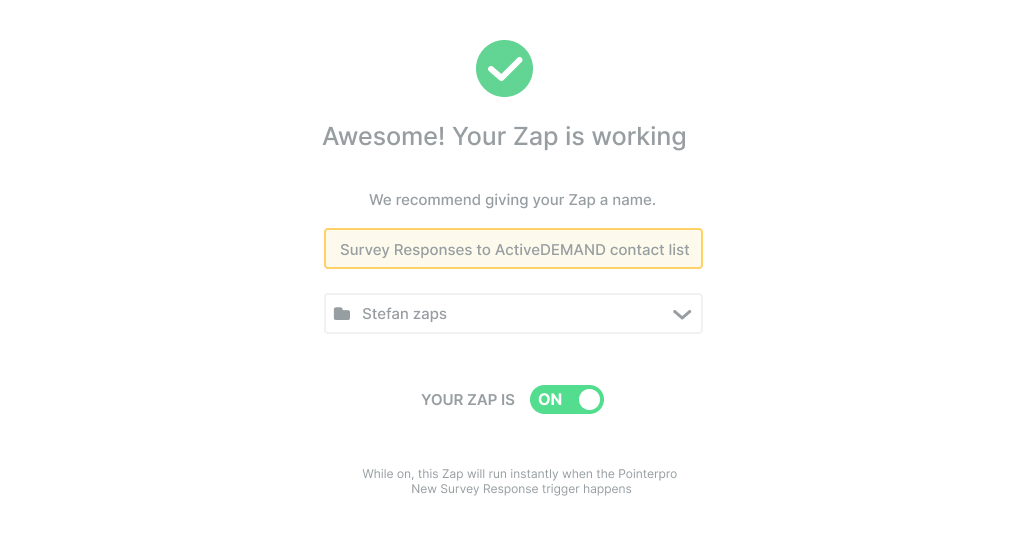 If we log in to our ActiveDEMAND account to see what the result looks like, you'll find new responses neatly listed in your contacts.
Piece of cake!
What makes the integration so useful
It will not only allow you to build your email list. But it's also a great way to enrich your user data with new survey responses.
The integration can help you register preferences based on given answers to build even more personalized email marketing campaigns.
A marketing must!
About ActiveDEMAND
This integrated marketing platform is built to make your online marketing easier. ActiveDEMAND enables businesses to manage their email marketing, marketing contact databases and social media marketing, all in one tool.
About Pointerpro
With a survey maker like Pointerpro you can say goodbye to boring surveys. The questionnaire tool allows you to build interactive, enticing surveys, quizzes and assessments or forms that will get you better data in return.